Major League Baseball: Birdies, Eagles, Diamondbacks & Dodgers!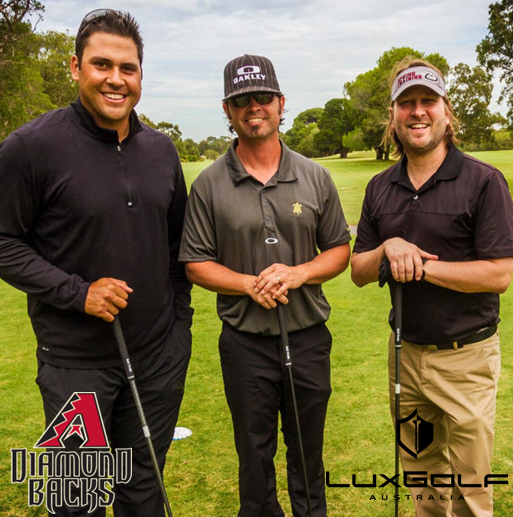 LuxGolf hosts Major League Baseball's Arizona Diamond back's Matt, Jayce and Brian !
Sydney and LuxGolf welcomed the LA Dodgers and Arizona Dbacks as they made the long leap over the pond to play a promotional match against Team Australia as well as a regular season double-header against one another to start the new 2014 MLB season.
And what do Professional baseball players  do on their time-off while on Australian soil when not crushing home runs on the diamond?…crushing long drives on the course! LuxGolf had the pleasure of hosting some of the visiting MLB superstars on the links!
Bonnie Doon Golf Club in Sydney's east set the scene for a 4-ball showdown pitting Diamondback's superstar left fielder, Matt Tuiasosopo and Brian 'Chaplain' Hommel against, Jayce Fincher and LuxGolf's own Travis Bruinsma!
With Travis birdieing the first we were off to a great start but our opponent ballers' were swinging for the fences and crushing their drives long and straight off the tee all day.
Travis: Matty, how are you this morning?
MT: Great Trav!, fantastic day and loving the course, little shook though as I got up this morning after a great game against Team Australia last night, then after breakfast, was called into our Manager's room and told I've been traded to the Toronto Blue Jays…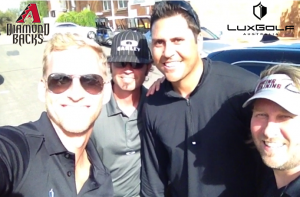 Travis: THE JAYS! Mate, Toronto is a GREAT town and fantastic Baseball city! Are you excited!?
MT: Definitely excited about the move! I've played in T.O. many times, The Jays are a solid, deep team, ….to be honest Trav, from Phoenix to Toronto….it's the 40 degree swing in temperature that's on my mind. Today I just hope these putts will keep dropping as much as I know the degrees soon will be…